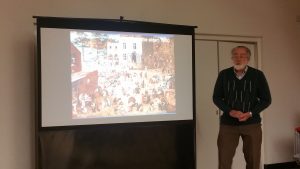 Ernest and Shelia Miller and Janet Slater gave us a great talk and demonstration of medieval board games.
Board games fell into a category of either War/ Chasing/ Skill/ Chance.
Board games are an ancient and important pass time, Many board games had been established from as long back as the Romans, Greeks, Vikings, Indians and Arabs. For example, board games were found in the graves of Iraq Royalty, Romans used dice, Romans and Greeks played Snobs.
Ernest showed us a variety of games that would have been popular during King Richards reign and ones that has died out since.
We then had a chance to play all these games ourselves, here's a few we got to play;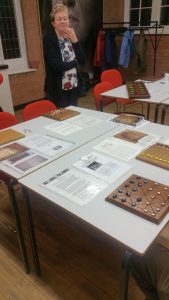 Alquerque (Arabic origins)
9 Mens Morris
Hnefatafl (Viking)
Mancala
Ludus Latruncoloum (Roman Soldiers Game)
Fox and Goose
Shove Ha'penny
Snobs or 5 Stones