Our branch outing this year was to Newark. We assembled outside the National Civil War Centre where Richard Smith told us something of the history of Newark.
A settlement existed here in early Saxon times and by the reign of Edward the Confessor it belonged to Lady Godiva and her husband Earl Leofric of Mercia. After the Norman Conquest Newark came under the control of Remegius the first Norman Bishop of Lincoln. The town remained in the hands of the Bishops of Lincoln until the religious reforms of Edward VI.
Newark Castle was built shortly after the Norman Conquest and it was here that King John died on the night of October 18/19th 2016. John is said to have died after consuming a 'surfeit of peaches', but there is the suggestion that he may have been poisoned.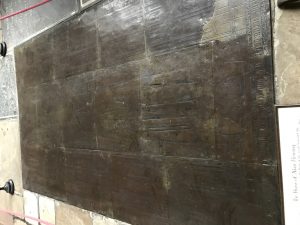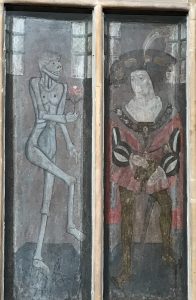 We spent the morning exploring the excellent National Civil War Centre where there are many interesting exhibits as well as films describing events and 'hands on' items to try your skill at.
Following lunch Richard took us for a stroll around the town where we examined the remains of the castle and visited St Mary Magdalene Church. The present building is the third church on the site, although parts of this building date from the 1220s. The church suffered during the civil war sieges and much of what we see today is the result of Victorian repair. The Fleming brass dates from 1363 and commemorates the Newark wool merchant Alan   Fleming who died in 1361. There is a wall painting from the early 16th century showing the Dance of Death, a rather macabre and sobering image.
Around the town the Old White Hart is the oldest surviving Inn in Newark dating from the early 14th century. Charles 1st Coffee House (sadly now closed) was reputedly used by Queen Henrietta Maria when she stayed in Newark. Greggs bakers was the Governor's House during the civil war, originally a rich merchant's house dating from 1474. There is also the house where Prince Rupert is said to have stayed after his quarrel with King Charles.
There are many hidden gems in Newark well worth discovering. Many thanks to Richard for another great trip.