The first talk was on "William Lord Hastings" by Ken Hillier, local historian and member of the Richard III Society Research Committee.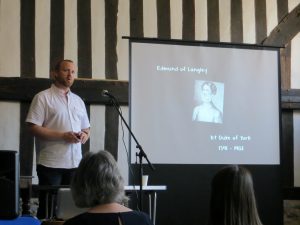 William, 1st Baron Hastings, was born about 1431. His family had been minor nobles until his meteoric rise supporting the Yorkists. He was closely linked to the Leicestershire area being High Sheriff of Warwickshire and Leicestershire in 1455. His part in supporting Edward was described including his role in the Battles of Mortimer's Cross, Towton – where he was knighted on the battlefield, Barnet and Tewkesbury. He was ambitious, gaining key roles including Master of the Mint and Lord Chamberlain. Hastings was made a Knight of the Garter in 1462. During the second half of Edward IV's reign he became Chamberlain of the Exchequer and Lieutenant of Calais. He officiated at Edward's funeral and initially was supportive of Richard, having had long-term feuds with the Woodvilles. There was little speculation as to the reason for his execution except it was uncertain what his reaction to Buckingham's position might have been.
Coffee and biscuits were followed by a talk on "Elizabeth Woodville" by Dr Joanna Laynesmith, a scholar of medieval studies, also a member of the Society Research Committee.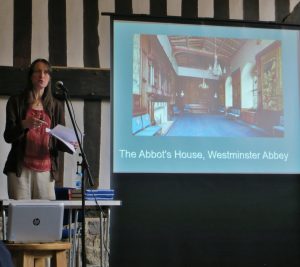 Elizabeth's first marriage was to a minor Lancastrian supporter and after his death she was left in difficult circumstances. It was noted that she might have approached Hastings before asking Edward for help with regard to her finances.  Hastings apparently tried to draw up a hard bargain and this may have resulted in the enmity between Hastings and the Woodvilles.  Her meeting with Edward was discussed, as there is evidence that he was near her parents' home on the 1st May.  Edward was the second King to have married one of his subjects and Elizabeth was the first commoner to be crowned Queen. Apparently, Elizabeth's efficient housekeeping kept the royal family out of debt. Her reactions when Richard became King may have been influenced by Buckingham's position, as he was possibly resentful of her previous lack of acknowledgement of him. Elizabeth played a role in securing the accession of Henry V11 but her influence waned and after retiring from court she remains obscure.
The first talk of the afternoon was on "John and Elizabeth de la Pole" by Dr Lynda Pidgeon, another member of the Society Research Committee.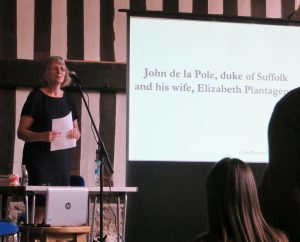 The talk centred on John 2nd Duke of Suffolk. It was said that he was noted to be a bit of a 'political non-entity' who on the whole avoided getting involved in politics. He was the son of William de le Pole, 1st Duke of Suffolk and Alice Chaucer, granddaughter of Geoffrey Chaucer, the poet. His father had made himself rich, but this source of income dried up on his murder, so John de la Pole was among the poorest of English dukes on his accession to the title. The most vibrant and important character appears to be have been his mother Alice Chaucer whose advice he would often take. Although supporting the Yorkists he spent much of his time in feuds with his neighbours, the Paston family. He supported Edward at Barnet and Tewskesbury, but had little involvement in Edward's second reign. John stayed away from Bosworth, dying in 1492 and he was buried at Wingfield Manor in Suffolk.
After tea and excellent cakes the final talk was on "Richard Duke of York" by Matthew Lewis, a well-known author on the period.
Richard's father, the Earl of Cambridge was beheaded for his part in the Southampton plot. Soon after, Richard inherited the Duchy of York as his childless uncle Edward died at Agincourt. When his maternal uncle, Edmund Mortimer died he also inherited the Earldom of March, making him the wealthiest noble in England. His valuable wardship was purchased by Ralph Neville, 1st Earl of Westmorland. In 1424 Ralph Neville betrothed 13-year-old Richard to his 9-year-old daughter, Cecily.
When York was appointed Regent in France, Duchess Cecily accompanied him and Edward, Edmund and Elizabeth were all born in Rouen. Matthew described the Duke's time in Ireland and talked about how failures of government turned into political unrest. Eventually York was recognised as heir to the throne, but frustrated by lack of political power, he retired to his estates. Further bids for power were outlined eventually ending in his death at the Battle of Wakefield.
In summary, a thoroughly enjoyable day at Leicester's beautiful Guildhall with some interesting insights into some of those in supporting roles in the War of the Roses.