As neither Sally nor Richard were available this year for the Choral Evensong at Leicester Cathedral I was asked to carry the Arms of England, with Caroline carrying Richard's white boar banner, at the Battle of Bosworth anniversary service on 19 August.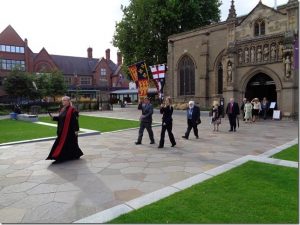 It had been raining all morning and the banners could not be allowed to get wet but luckily the sun shone at the right time and the full ceremony with the banners could take place.
I cannot explain how it felt to be part of such a moving and wonderful ceremony.  It was very humbling.  Everyone connected with the Cathedral was great to work alongside and I felt honoured to have been able to take part in the service.  The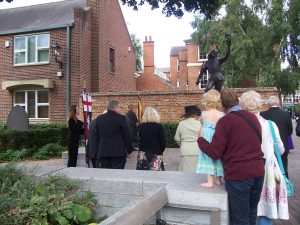 Cathedral took such care to honour King Richard III and put the maximum effort into making this a spectacular anniversary.
Canon Johannes Arens gave a moving and meaningful sermon; white rose petals were scattered at the grave and roses laid at the statue.  The service ended at the tomb where we lowered the banners and Phil Stone placed more white roses.