Sally Henshaw gave us a talk on what might young Henry have known of the disappearance of his uncles, Edward and Richard, known as the Princes in the Tower?
Sally ran through Henry's early life; accounts of his childhood interests and behaviours and the dynamic within his family. In the first 12 years of his life he was groomed as the 'spare' as his older brother Arthur was heir to the throne. Arthur married Catherine of Aragon by proxy at Bewdley in 1499. They were then married at St. Paul's on 14th November of 1501, when Catherine came to England. Just before Christmas they left for Ludlow where Arthur died on April 2nd 1502. It was then decided that Henry would marry Catherine. The big question here though was whether or not the marriage had been consummated. Catherine said that it hadn't been. If it had, it would be more difficult to get a papal dispensation for Henry and Catherine to marry
The 1495 – 1499 revolt lead by Perkin Warbeck who laid claim to the throne saying he was Richard of Shrewsbury, Duke of York and son of Edward IV and rightful Plantagenet heir to the throne happened during Henry VIII's early childhood. Young Henry was rather pointedly appointed Duke of York on October 31st 1494 at the age of three when Perkin Warbeck was also claiming to be Duke of York.
Sally speculated what the young Henry would have been aware of during this time. Wh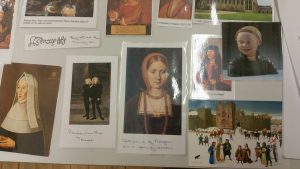 at he would have been told of his family's history and if he had been served/ taught/ attended by anyone who had previously served/ taught/ attended Richard of York and Edward V – those young boys before they disappeared in 1483. What rumours may be he have heard. Did his mother Elizabeth of York ever come into contact with Perkin Warbeck – who claimed to be her brother? We are pretty sure Elizabeth never did see Perkin Warbeck, but she was in very close contact with Lady Katherine Gordon, his wife, later widow.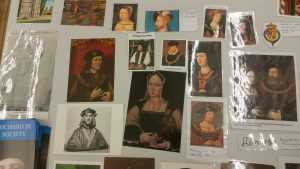 Henry VII having passed law to legitimise the children of Edward IV and Elizabeth Woodville so he could marry their daughter and 'bring the houses together' (after parliament had decreed them illegitimate hence the claim to the throne being Richard III's). Henry VII had a political battle on his hands juggling the legacy of his own children and the speculation of the princes in the tower.
At the end of the talk, we had a long discussion about different theories and conspiracies that could have taken place. It was enjoyable to speculate various scenarios that could have taken place