Two years ago King Richard's cortege passed through Market Bosworth on its final journey to Leicester Cathedral. On Sunday March 19th the anniversary was marked by the unveiling and dedication of an artwork created to commemorate that event.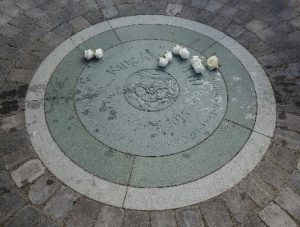 Loughborough artist Damian Witty created a circular stone in Cumbrian slate with a hand carved rose in the centre. The wording around the rose records the fact that Richard's cortege rested on that place in Market Bosworth on March 22nd 2015.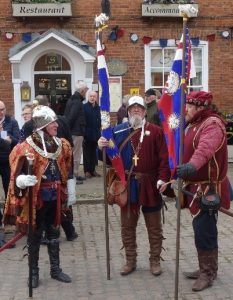 Richard Smith and Sally Henshaw helped Cllr. Richard Allen, the Mayor of Hinckley and Bosworth to reveal the stone. Richard Smith then said a few words on behalf of the society.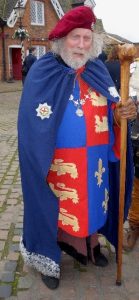 Captain Mortimer's men were on hand to lend some medieval colour, as was our own Malcolm Perkins (Blanc Sanglier) and even the Bosworth horse was suitably attired for the occasion.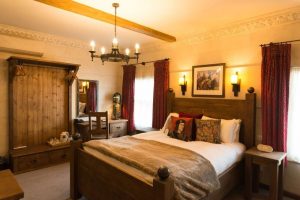 On Friday March 24th Philippa Langley officially opened the Richard III themed bedroom at the Belmont Hotel in Leicester. The Lord Mayor of Leicester Stephen Corrall was also present. The room has a Graham Turner print of Richard at the Battle of Bosworth and also the N.P.G. portrait of Richard. On the bed is a cushion also featuring the N.P.G. picture of Richard. The wooden furniture and the fabric of the drapes all add to the medieval feel of the room. I especially like the lamp in the shape of a shield and a helm.
The Richard III Visitor Centre played host to a well attended 'Question and Answer' session with Philippa Langley on Saturday March 25th. In the evening the Belmont Hotel hosted a discussion dinner again with Philippa. She talked about her 'Princes Project' before the meal and afterwards a discussion followed covering the various aspects of the story of the Princes.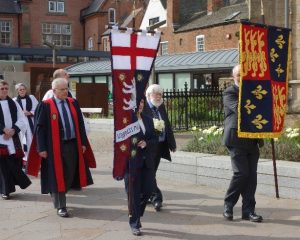 On Sunday March 26th, Choral Evensong at Leicester Cathedral marked the second anniversary of the king's re-interment. Richard and Sally carried the banners on behalf of the branch in the procession from St. Martin's House to the Cathedral. The Society Chairman Dr. Phil Stone carried white roses to later place on the tomb.
Dr Stone read the the first lesson from the Old Testament taken from the Book of Micah. The New Testament Lesson from the Book of James was read by the Dean of Leicester, David Monteith. Following the commemoration and remembrance of King Richard III the Dean and Dr. Stone moved to the ambulatory where Dr. Stone laid white roses on the King's tomb. Following the service the procession then returned to St. Martin's House.