Yvonne Morley, a voice care specialist, has been working with dentists, therapists, scientists and historians to discover what Richard III may have sounded like.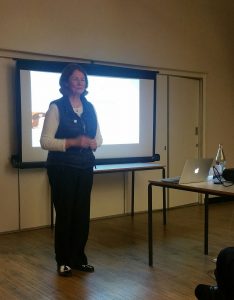 Yvonne gave us a fascinating insight into her quest to give Richard III a voice and the multitude of elements she has been investigating.
Some of which involved evidence gathered from the discovery of Richard III's bones, this was how muscles would fit with the skeleton as well as frame and general demeanour, including strength and physical ability.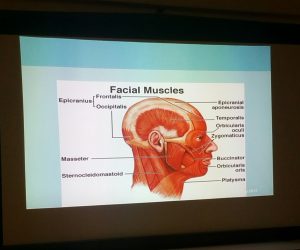 Other considerations were environmental influences such as where he lived and the variety of places visited and different people that he was exposed to throughout his life. It was also important to look into his mental state and life history
Yvonne referenced various contemporary text including physical descriptions of Richard III and gave us an example of a letter that he wrote.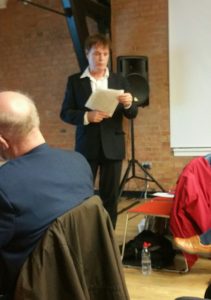 She also gave us a brief lesson is how words were pronounced at the time and the changes that were taking place throughout the country
Professional actor Tim Charrington read out for us a sample of 15 century language and then read out the letter written by King Richard in the way the words would have been pronounced. Many of us thought it sounded very similar to Irish in places.
Yvonne explained the aims of the project is to find an actor who has similar features and build to Richard III and to work with various scientists to develop an actual voice of King Richard. We are eager to follow her progress.