Rosemary Hughes, florist of The Queen gave us a very interesting talk explaining the research and inspiration behind the floral displays for the re-interment of King Ri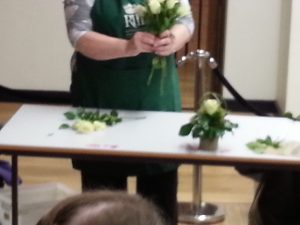 chard III in Leicester Cathedral.
As Rosemay was explaining the different plants, herbs and flowers that would have been available and commonly used during medieval times, she demonstrated to us how they made a variety of different displays that were used in the Cathedral.
It was fascinating to watch Rosemary and her assistant effortlessly make such beautiful complicated displays.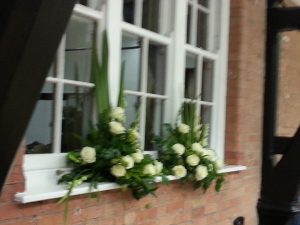 At the end of the talk, a raffle was drawn to see who would be taking home such beautiful displays. Richard and I were very fortunate to win these window displays.
Dave got the little rose in the basket as seen on the table above. But then that's much easier to get home. Thankfully Father Alan gave me a lift!
You can read Rosemary's blog about the plants and herbs she used here